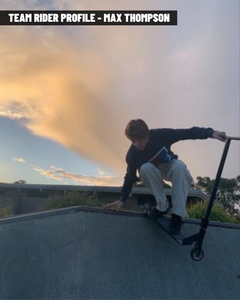 Get to Know Team Rider Max Thompson AKA @alternativecasette
Check out his steezy clips on our feed, then acquaint yourself with team rider, Max Thompson (AKA @alternativecasette)🔥⤵️
What's your Local: Ocean Grove Skatepark
How long have you been riding: Since I was 13
Whats your favorite trick: Boosting big t bog airs in a bowl
What got you into it: I started riding skateboards with my best friend Joe Doedel, who I still ride with. I remember him coming over & showing me a district scooters video on the golden age of YouTube! It was a team video, I remember watching Brandon James shred this bowl, I was absolutely hooked. It became my instant obsession and one of my great passions.
Who were you first influenced by: Ryan Williams and his passion and determination to push the sport, he became my hero. I remember first meeting him at 14 in Caloundra at his local skatepark, I couldn't believe it.
Who are your main inspirations: Issac Miller, love his style & music selection! I also love Trendkill Collective, the videos they upload are wonderful projects.
Brands you love?: Madd Gear was one of the first, mostly because of the team they had at the time. I've always gone back to brands like Tilt, Native, and Envy for durability.
What are you riding ?: Ethic grips, Sypher bars, Aztek clamp, Native forks, Prey deck, Ryan Ruegg wheels, Atlas grip, Envy headset.
What are your current goals: Continue traveling and riding with my friends over Australia, continue supporting AtlasCo and most importantly having fun.
What's in the pipeline: Currently in Bali drinking pina coladas, but keen to see and ride with friends and everyone in Sydney for the street jam.
What hypes you up: A nice bowl jam at sunset with good mates and awesome music.
What drew you to AtlasCo: The loving support they give to all the team, embracing me to be myself and be unique riding. Everyone is just so easy going, and I feel so welcome, it's like a family to me.
Most memorable moment scootering: The Canberra jam, helping organize it, watching everyone go for it, the adrenaline & excitement was insane. Was good to ride talk to riders I had been watching for years. After the jam it was a great night partying with everyone.
Support this legend with the code "STEEZEMAC10" at checkout 🛒
---