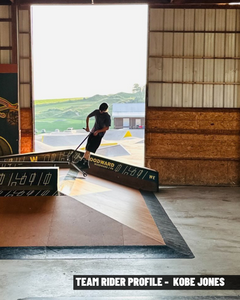 Get to Know Team Rider Kobe Jones AKA @k.obe___:
You may have seen @k.obe___ blowing up your feed with dope clips… now it's time to get to know him better 🔥⤵️
How long have you been riding? Been riding for 3 years
What got you into it?⁠ Watching local pro riders going out every opportunity, having fun with mates & producing entertaining content.
Who were your early influencers? Local riders Kai Saunders & Jack Dauth really motivated me in the beginning. Their determination, constantly making content & pushing their limits with video parts.
Who are your main inspirations? ⁠I have many, even my close friends constantly inspire me. My main inspirations are Jack Mount, Nick Tedrick & Riley Maltais. Their swag & capability to do such unique tricks consistently motivates me.
What are your future personal goals? To finish the video part @1ethanmoore and I are working on & get a sponsorship with a brand.
What does the industry need more of?⁠ It needs more support & appreciation from the broader population. People all over the world support skateboarding, even if they have no idea about it. Only a small population support scootering in comparison.
Less of?⁠ As cliche as it sounds - it needs less hatred & judgement. It's silly to criticise others about petty things (colours or style) when at the end of the day we are all riding a piece of metal on wheels.
What are you looking forward to in 2023?⁠ Filming more for future & current video parts, & travelling across Australia riding with mates.
⁠What's it like being part of AtlasCo? Forever grateful to be apart of such an inclusive & welcoming family. It's been a dream come true. I am honoured to be with such wonderful people that I love dearly.
What is your most memorable moment? 100% driving into Woodward with Ethan seeing all the crazy skateparks. It was surreal, happiest I've ever been. I remember him & I were just buzzing with excitement.
What do you do when not riding? Out with mates, at school, or excessively watching video parts.
What are you riding ?🛴: Emblem Grips, Stage 1 Bars, Coffin Fork, Proto Headset, Prey Fork, 1 Durare Wheel / 1 North Wheel, Horizon Deck, North Griptape
Support this legend and use "KOBE10" at checkout 💰
---